GOOD VIBES IBIZA
APRIL 12-14, 2019 // IBIZA, SPAIN
STEP 1: Book this trip using promoter code "FRONTERA" at the link below. Email us with any questions.

STEP 2: Book your flight to Ibiza — we're happy to help with that as well!

STEP 3: Go to Ibiza. Party for days. Never leave. Grow old and die happy.
This is it, folks. A weekend in paradise in IBIZA, the clubbing capitol of the world. Each spring, we team up with island experts "GOOD VIBES IBIZA" for one incredible weekend. Visit their website at the link below for full details and booking with promo code FRONTERA.
To book this trip, go to GOODVIBESIBIZA.COM and use promo code FRONTERA when booking. You must use this promo code to secure your spot!
+ OVERVIEW
Spend a weekend in Ibiza, splitting your time between the sunshine, dance floor, and the beach! Nothing cleaneses the soul like the perfect party, and no party is quite like the ones you'll find on the White Isle.
For years, Ibiza has been the mecca of clubbing and electronic music. The storied island's history in the party scene dates back to the 70s and 80s when it was a paradise for the hippie, and later, disco crowds. Today, it is home to the top clubs on the planet -- not to mention the best DJs, parties, and beaches around. No matter where you've partied, Ibiza does it BIGGER and BETTER.

The GoodVibes and Frontera staff have been organizing trips to Ibiza for the better part of the last decade, and we'd like to show you all that the White Isle has to offer. Let us take care of the accomodations, parties, and everything in between. From check-in to check-out, we're dedicated to giving you the best Ibiza experience possible.

See you on the island!
+ WHAT'S INCLUDED
Pool party on Friday
Es Paradis Water Party on Friday night
GoodVibes party at Eden on Saturday night
Club entrance each night (Friday and Saturday)
Pool Party on Friday
Boat party on Saturday
Welcome Pack
2 nights hotel accommodation (Friday and Saturday)
Extra nights available (Thursday and Sunday)
24hr guide assistance
+ TRIP HIGHLIGHTS
The party capital of the world
Club entrance each night
Accommodation in famous San Antonio
Exclusive parties all weekend (for GoodVibes customers only!!)
Boat party
Pool party
Beautiful beaches
A weekend in paradise
+ ITINERARY
NOTE: This itinerary is subject to changes and additions.
+ FRIDAY April 12th
POOL PARTY
Between 5 and 8 P.M., our DJs will be spinning poolside. Grab your friends, hit the bar, and get dancing. Ibiza is all about forgetting your worries and losing yourself in the music -- what better way to start your weekend than with dirty dance beats next to the pool?
WATER PARTY @ ES PARADIS
The water parties here are the live embodiment of the the freedom that the perfect party provides, and that's what Ibiza is all about. This is a night that you'll remember for the rest of your life.
Imagine it's a hot Mediterranean night and the dance floor is packed with beautiful people as the DJs play the latest vocal house tracks that Ibiza is so famous for. The music builds, the atmosphere is electric, and everyone around you is having the time of their lives. Just when you thought things couldn't get better, huge columns of water explode across the dance floor from every direction. The air is filled with tiny water droplets that shower the crowd. The club is turned into one giant swimming pool custom made for you to dance, laugh, and create memories you'll never forget.
For many students, this is one of the best parties of their lives. The original and elegant white decorations complement the enormous natural gardens, and are part of the reason why it is recognized as the most beautiful club in the Mediterranean. Seeing really is believing!
The club is within walking distance of the hotel, and entrance is included.
+ SATURDAY, April 13th
BOAT PARTY
GoodVibes is well aware that Friday is going to be a VERY long night out. Sleep in, relax, and hit the pool or beach at your leisure after venturing out for some breakfast (or lunch).
Between 1 and 5 P.M., we'll be raging at sea. We'll make the short walk from the hotel to the harbor to get on board our private boats, complete with cash bar, DJs, and stellar sound systems. Once on board, you're in a for a three-hour fiesta around the white sandy beaches of Ibiza's coastline. Lose yourself in the moment as you party with hundreds of students to the world's best house, EDM, hip-hop, and techno beats.
GOODVIBES PARTY @ EDEN
A major protagonist of the electronic scene renowned in all the corners of the globe, Eden belongs to the exclusive circuit of the greatest clubs in Ibiza. Its name, summer nights, and parties are now part of the Ibiza night myth. The club's DJ portfolio includes key names in the music industry including the likes of Pete Tong, Judge Jules, Disclosure, Goldfish, Markus Schulz, Sasha, Ferry Corsten, Dubfire, Luciano, Cristian Varela, Groove Armada, Lady Gaga. The list is endless.
Founded in 1999 in the heart of San Antonio Bay, the club was completely refurbished in 2013. Eden boasts a great and sophisticated main room, a second room with independent access and a state-of-the-art sound system. Eden Ibiza truly is one of the island's most storied clubs, and once you party there it's easy to see why.
The club is within walking distance of the hotel and entrance is included.
+ SUNDAY, APRIL 14th
DEPARTURE TIME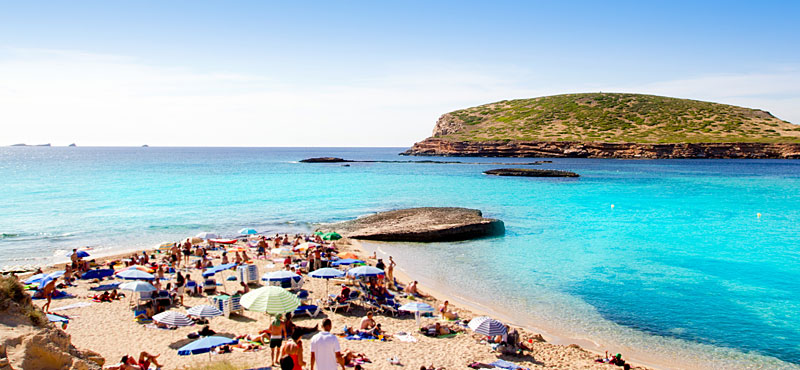 After your check out (for those who did not book the extra night on Sunday) you can enjoy our the pool, explore Dalt Vila (Ibiza's historic Old Town), the beach, or any number of recommended activities until your departure.
We're happy to share our knowledge regarding what to do on your final day -- just ask!
+ ACCOMMODATION
There are two options available for weekend accommodations: hotel and apartments. Space is limited in both locations, and will be available on a first-come-first-serve basis.
+ HOTEL
Our hotel is conveniently located 5 minutes from the beach in San Antonio Bay, offering the opportunity to take advantage of a wide range of aquatic activities. The San Antonio city center, one of the most important tourist areas in the Island, is just 10 minutes walking distance. Additionally, you can find all kinds of stores, supermarkets, pubs, etc. nearby.
The hotel is a traditional 3-star establishment. It consists of four buildings that surround the swimming pool area. It has a restaurant, bar, supermarket, gym, and lounge with TV and slot machine.
The hotel offers a suitable space to enjoy the calmness of the island, without neglecting the wild nightlife that characterizes the municipality of San Antonio. Additionally, you're just a few minutes walking to the beach and the San Antonio city center.
+ SERVICES
Swimming pool + poolside bar
TV room
Bar
Restaurant
Air conditioned
WiFi in common areas
+ ROOMS
Rooms are double and triple (double room plus extra bed) standard hotel rooms. The majority of the rooms are double, some triples are available, and a limited amount of 4 and 5-person rooms are available. These are all hotel-style rooms and include:
Private terrace
Full equipped bathroom
Telephone
Air conditioning
LCD TV
+ APARTMENTS
Our apartments are located in the heart of San Antonio's infamous West End andjust 100m off the sunset strip. With just a couple blocks walking, you can catch those unforgettable Ibiza sunsets with an unobstructed view.
It's an apartment-style 2 star establishment with 3, 4, and 5 person apartments. There are a few 3-person rooms available, and the majority of the rooms are for 4, 5, or 6 people.
All rooms have a living room, a full bathroom, fully equipped kitchen with fridge, microwave, toaster and kettle, safe box, TV and air conditioning. All apartments have a balcony or terrace, some of them with sea view.
+ SERVICES
Swimming pool + poolside bar
WiFi in common area + internet stations
Café/Bar
Air conditioned
24/7 reception
Supermarket
+ ROOMS
Rooms are apartment style, sleeping up to 6 people:
3 person room: 1 bedrooms with 2 individual beds, plus a sofa-bed in the living room.
4-6 person room: 2 bedrooms with 2 individual beds in each room, plus 2 sofa-beds in the living room.
+ F.A.Q.
Got questions? We're here to help! Check out the GoodVibes F.A.Q. HERE or shoot us an email at info@fronterabarcelona.com, and make sure to include "GoodVibes Ibiza 2019" in the subject line!
Please CLICK HERE for GoodVibes' F.A.Q. section.
+ FLIGHTS
The trip officially begins with the pool party on Friday afternoon. We recommend arriving Friday morning, and departing Sunday evening (unless you want extra nights, of course!). Check out discount airlines such as RYANAIR and VUELING.
QUESTIONS? EMAIL US ABOUT THIS TRIP!